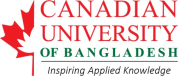 Canadian University of Bangladesh
Home ›
Canadian University of Bangladesh
Canadian University of Bangladesh (CUB) is a new university. Yes it is newly established (January, 2016), but it is also a totally new breed of university, too. What makes Canadian University unique? It's application based. That means that "we teach by demonstrating; we learn by doing". Our approach to education, in that respect, very much follows the North American Model.
It ensures the delivery of university level education to the highest Canadian standards …without actually going there. This means that Canadian University of Bangladesh is able to provide a world-class, application-based education at an affordable cost.
Due to Bangladesh's surging economy and the stable influence of its leadership; the country, today, is an island of economic prosperity and political stability in a sea of global insecurity. It's high levels of growth and sustained development is an example to world. The Canadian University of Bangladesh is deeply committed to fulfilling its responsibility to produce the world-class leaders and skilled professionals required to ensure the success and prosperity of the nation.
Locations
Dhaka
Canadian University Of Bangladesh
Address
Plot: 99 Block: C Road:11, Banani
Dhaka-1213
Dhaka
,
Dhaka Division
,
Bangladesh