Why choose English-medium Undergraduate programs at Ritsumeikan University?
English-based Undergraduate Programs enable access to the variety of academic courses for students without or limited Japanese language ability.
After enrollment, International students will have opportunities to learn Japanese in/outside of the curriculum.
<Student Diversity>
Student diversity is one of the most attractive features of RU. In 2019, 2441 degree-seeking international students from 66 countries study in our graduate and undergraduate programs. RU always gives you opportunities to meet students from across the globe and different cultures. Student diversity makes your university life exciting and contributes to your fruitful academic activities in Japan.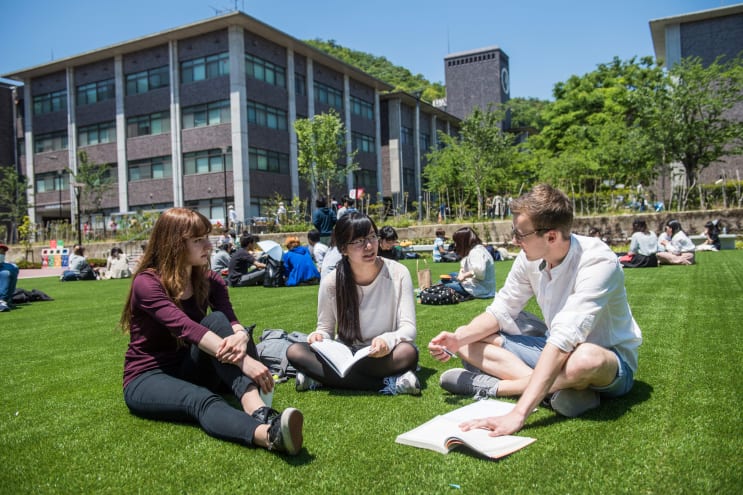 <Great Locations>
Ritsumeikan University has four campuses in the Kansai region. English-medium undergraduate degree programs are offered at three of these campuses. Global Studies Major and the Joint Degree Program are based at Kinugasa Campus in northwest Kyoto City. Community and Regional Policy Studies Major and the Global Liberal Arts are based at Osaka Ibaraki Campus which opened in 2015 in Ibaraki City, Osaka Prefecture. Information Systems Science and Engineering Course is based at the Biwako - Kusatsu Campus in Kusatsu City, Shiga Prefecture. The three cities are within easy reach of each other. Kyoto to Ibaraki (Osaka) and to Kusatsu (Shiga) takes just 20 to 30 minutes by train.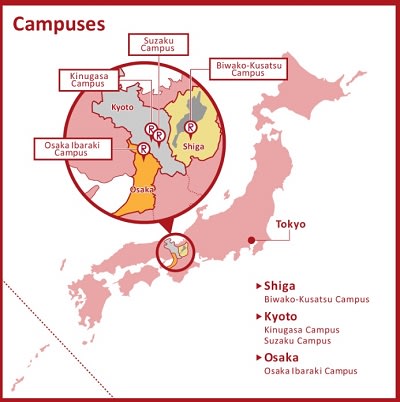 <Opportunities beyond Japan>
Ritsumeikan University has study abroad agreements with more than 120 universities in 32 countries and regions. Students are encouraged to participate in study abroad programs or fieldworks overseas depending on their majors and academic fields. In addition, RU operates the Dual Undergraduate Degree Program (DUDP), in which students can earn bachelor's degrees from both RU and allied universities.
<Student Activities and Support>
RU offers many programs such as off-campus voluntary activities, internships, on-campus peer support activities and various kinds of clubs and circles run by the students. International students with a student Visa can apply for tuition reduction scholarships. Accommodation in a furnished apartment or off campus dormitory is available for students without previous experience living in Japan. This provides English-medium undergraduate programs students with a good environment to concentrate on their study and day-to-day communication with other students.
<Scholarships for International Students>
- Tuition Reduction Scheme
Below is information about the tuition reduction scheme for 2020 admissions.
100% tuition waiver
50% tuition reduction
20% tuition reduction
The tuition reduction is offered initially for one year, based on students' admission evaluation. In the second and subsequent years, the tuition reduction is awarded based on students' grades during the previous year of study. This scholarship may change so Apply as early as possible.
Ritsumeikan University at a Glance
Ritsumeikan University was selected by the Japanese government as one of the universities for the "Top Global University Project" in 2014. Selected universities are required to actively promote globalization among Japanese universities.
Founded in 1900, Ritsumeikan boasts a history of almost 120 years.
RU is an integrated university with 16 colleges and 22 graduate schools.
We have 4 Campuses in Kyoto City, Kyoto Prefecture, Kusatsu City, Shiga Prefecture, and Ibaraki City Osaka Prefecture.
RU has a worldwide alumni network with 24 overseas branches.
2441 degree-seeking international students from 66 countries, Plus 180 non-degree international students from 27 countries.
RU was ranked No.1 for the most foreign faculty members in a Japanese university.
RU has a global network of 441 partner institutions worldwide. We also have study abroad agreements with 137 universities in 30 countries and regions.
99+% of international students in the English-medium undergraduate programs who applied for scholarships received financial aid.
More than 95% of international graduates successfully got jobs.
RU was ranked No.3 in QS Graduate Employability Rankings 2015(Pilot) among Japanese private universities.
RU has 450+ student clubs and circles of all kinds, including sports, arts, Japanese culture and everything in between.
RU was ranked No.1 in commissioned research by private-sector industries nationwide.
Locations
Kyoto
Address
56-1 Tojiin Kitamachi, Kita Ward, Kyoto, Kyoto Prefecture 603-8577, Japan
Kyoto
,
Kyoto Prefecture
,
Japan
Osaka
Address
Osaka
,
Osaka Prefecture
,
Japan