Pskov State University (PskovSU) will enable you to make an impact in the area of your interest. You will learn all about your field because we combine theory and real-time practice. You will experience authentic cultural exchange because we locate in the border region and are open to interconnections. You will enhance your personal skills which will help you adjust and stay up to date within your career in ever-changing circumstances.
Unique location
Pskov State University (PskovSU) is one of the 33 key regional universities in Russia. It is located in the city of Pskov, which is one of the oldest Russian cities, just an hour ride from the Russian border with Latvia and Estonia (European Union).
The university serves as a center of academic activity in the Pskov region and empowers its educational, cultural, and scientific life.
Pskov region has a unique geographical location sharing borders with 3 states (Estonia, Latvia, and Belarus). It is a strategic center for cooperation with the European Union and the Baltic region countries.
Pskov State University was established in 2010 by merging two higher education institutions and three technical and vocational education and training institutions.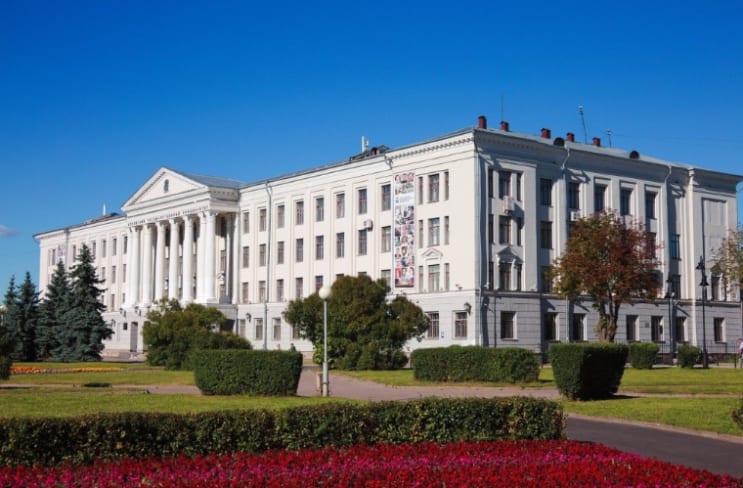 Pskov State University offers studies at:
Institutes: Institute of Medicine and Experimental Biology, Institute of Law, Economics and Management, Institute of Engineering, Institute of Mathematical Modeling and Game Design, Institute of Human Sciences and Language Communication and Institute of Education and Social Sciences

PskovSU College

The Institute of Lifelong learning

Russian Language and Culture

Center
Pskov State University offers higher education on the following Degree Levels:
Bachelor's degree (4 years or 5 years);

Specialist's degree (5 or 6 years);

Master's degree (2 or 2,5 years);

Postgraduate studies (3 or 4 years).
Over 100 educational programs are available.
Accreditation
Pskov State University Language Testing Center has made it to 13 educational institutions accredited for examination in Russian as a foreign language, Russian history, and the basics of Russian legislation (comprehensive exam).
Lifelong learning
The Institute of Lifelong learning offers more than 100 supplementary educational programs for children and adults, vocational retraining, advanced training, seminars, and masterclasses.
Since 2020 two forms of training are available: on-campus in Pskov or online.
The University's Campus includes:
13 educational and laboratory buildings

11 student dormitories

The university library

Student's Home (Dom Studenta)

Swimming pool

Centre for student initiatives

Medical rehabilitation center with a university polyclinic

Engineering center

More than 10 000 students are enrolled at the Pskov State University, including about 1000 foreign students from 41 countries. The teaching staff consists of 500 members, 70% of them have academic degrees and titles.
Advantages of studying at Pskov State University
Teaching professions that are in demand all over the world

A wide network of foreign partner universities

Training or internship at a partner university available

In Interfax-100 internationalization rating

Over 1, 000 international students from 41 countries

Developed tutoring activities of the university will allow you to make friends from the first days of your stay at the university

Educational programs curated by world-class experts

123 educational programs

Russian language training for foreign applicants at the Preparatory Course
Locations
Pskov
Address
пл. Ленина, д.2
Pskov
,
Pskov Oblast
,
Russia