UBIS University of Business and International Studies
Home ›
UBIS University of Business and International Studies
Read more on the school's website
The University of Business and International Studies (UBIS) Encourages Teamwork and Helps Students to Become Leaders and to Start their Own Businesses
UBIS is a young institution that aims to deliver quality programs in the fields of International Relations and Business. The UBIS DNA is composed of three main factors: Real-World Experience, Individual Attention, and International Perspective.
UBIS' professors are highly experienced professionals. They bring to the classroom real-world problems and dissect them with the critical eye of experience. They provide participants with a strategic framework within which to position the issues that will be facing in your professional life.
UBIS keeps a close eye on the evolving needs of the marketplace and is constantly adapting its course content and methodologies to ensure that our graduates are equipped with the necessary knowledge and transferable skills to succeed in the rapidly evolving world of work.
At UBIS you will not be just a face in the crowd. We pay attention to the needs of every student and aim to deliver a customized and personalized learning experience for each one. Our small class sizes help you to take advantage of more in-depth discussions and receive individualized feedback from your professors. This is designed to help our students to develop the skills and confidence to succeed in the career they want to follow.
Finally, we are a truly international community: UBIS' faculty, staff, and students come from over 40 different nationalities and from every corner of the world. UBIS also has a strong network of international partners and a truly international Alumni network. Currently, UBIS' Family is spread over 4 continents.
Why Study at UBIS
Customized, high-quality academic programs and a faculty that is highly supportive of individual business-oriented student projects. Small class size is key.
Focus on student's career perspective: programs aligned with future of work; faculty with professional experience, combined technical and social skills approach.
Highly diverse student body on campus and immersion in Geneva's international community. Semester abroad (partner institutions) and/or internship (USA) options.
Detailed Information
History
The University of Business and International Studies (UBIS) was founded in 2006 to create an institution with high academic standards and a supportive environment for students interested in business careers. UBIS is accredited by IACBE, EduQua, and ISO29990. UBIS has a network of international academic partners and an international alumni network. The faculty, staff, and students come from more than 40 nations.
Education
At UBIS we build student capacities to navigate territories they may be unfamiliar with, to adapt to changing circumstances, to operate in multicultural modes, and to implement projects that will have positive impacts in the world. We constantly review and modify our programs and teaching methods to align with current business and societal needs.
Our undergraduate programs put a strong emphasis on individual growth and on developing the knowledge, skills, and habits necessary to succeed in the future of work.
Graduate students are oriented to analysis and research that is applicable to contemporary business issues.
In 2018 UBIS expanded its academic offerings to include a doctor of business administration.
Research
Student research is encouraged and developed through the capstone project at the bachelor level and a thesis at the master and doctoral level. The master and doctoral theses are expected to demonstrate original research and a contribution to new knowledge. The professional expertise of the faculty is crucial for orienting these theses to real-world business issues. The originality of the research is monitored through close mentoring of the theses at predetermined stages of student writing submissions. Faculty are expected to demonstrate research activity through contributions to peer-reviewed journals and participation in Published proceedings of conferences.
Career Prospects
Student career prospects are enhanced by high-quality academic programs that are constantly aligned with the future of work, by faculty with extensive professional experience, by an emphasis on social skills (communication, cooperation, cultural sensitivity) and by the space students are given to develop their own business projects. The prominence given to research (capstone projects and theses) oriented to real-world business issues is a major factor in preparing our students for success. Students have multiple opportunities given by the Geneva environment (e.g., participation in important conferences, internships at businesses, International institutions, and NGO's) and by our international academic partnerships.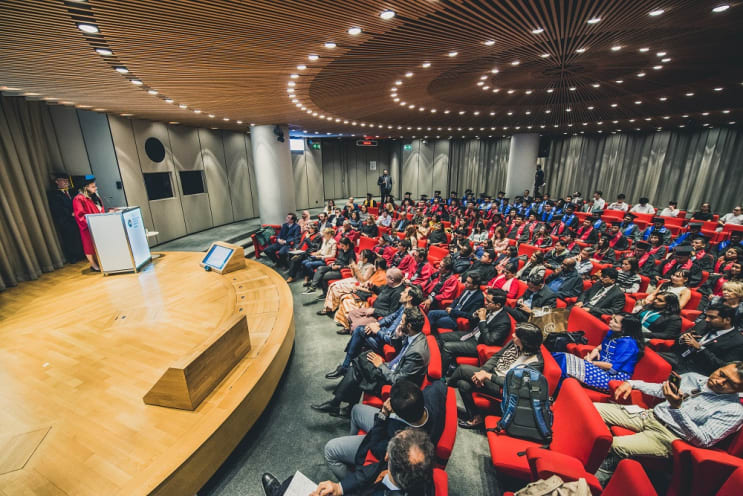 Services
Student Offices
Career Center advises each individual student where to go for an internship. All students in Switzerland are allowed to work for 20h per week-- a 50% post starting from the 2nd semester of studies.
Student Learning Platform - helps to control grades and study materials
Online program for distance learning education
Student Services to help with visa, residence card formalities, health care, and accommodation
Orientation days for new students: acquaintance with professors, city guide tours, integration with existing students
Student Association – organizes fun events for students in and outside of Geneva
Accommodation
UBIS student services team helps students to book a shared or single room in Student Residences in Geneva (separately located for female and male students). By student request, we can provide a number of agencies for relocation services or to search for a room in a private apartment. Housing prices in Geneva are from 700 to 1000 CHF per person monthly. Geneva has excellent public transportation and safe biking. We try to find living facilities within walking distance to campus.
Library
UBIS offers access to EBSCO Business Source Premier database, one of the best and most complete research business databases. UBIS also has a small physical library on campus and all students can get an annual pass to the United Nations Library and use it free of charge.
Healthcare
Healthcare facilities are off-campus. All UBIS students apply for Swiss health insurance dedicated to students with special rates from 65 to 100 CHF per month depending on the franchise type.
Campus
The Geneva campus of UBIS is located in one place, within the city center and very near to the United Nations in Geneva, headquarters of banks, corporations, and international organizations such as the WTO and the Global Fund. The Campus is a 3-minute walk from Lake Leman and a 2-minute walk from the Botanical Gardens of Geneva.
Classrooms are fully equipped, have natural and artificial light, and are large and comfortable. There is a strong internet connection, a student lounge, a small library, and access to a kitchen. Small cafes, kiosks, supermarkets, and restaurants are all very close to the campus.
Sports Facilities
Sports facilities in Geneva are available at special discount prices for students:
Swimming pool monthly abonnement – 10 CHF
Stadium for football – free of charge
Gym monthly abonnement – 49 to 65 CHF
Bikes, lake boats, water bikes - for rent
Student Associations
No need for on-campus cultural clubs because Geneva offers so much—e.g., a wide choice of French and English language cultural activities (broadcast, print, and online media and live performances).
Information about events is available from Geneva Tourism or local Tourist Offices and local newspapers. Tribune de Genève', 'Le Temps', and 'Le Matin' publish weekly supplements with details of local events and entertainment. Geneva has over 40 museums, art centers, and foundations and the highest per capita number of cinemas in Europe (e.g., The Orange Cinema (Cinélac), City cinemas). Geneva has an active music and theatre scene (35 stages). Genève Agenda, RegArt, and the Tribune de Genève list upcoming theatre events.
Accreditation
The University of Business and International Studies (UBIS) is certified by EduQua: the Swiss Quality Certification for Higher Education.
UBIS has received specialized accreditation for its business programs through the International Accreditation Council for Business Education (IACBE) located at 11374 Strang Line Road in Lenexa, Kansas, USA. Click here for a listing of programs accredited by the IACBE.
UBIS is also ISO 29990 certified. This certification offers the basis for a relevant management system geared specifically to education and continuous improvement of the management system, processes, and services. UBIS is proud to be the first ISO 29990 certified Swiss Education Institution (accredited as of 14 June 2013) to have been granted a full certification.
Further, UBIS is:
Member of the Federation des Enterprises Romande (FER)
Associate Member of the European Foundation for Management Development (EFMD), which is one of the key business school networks in the world. Being a part of the network brings many opportunities for faculty and student exchanges, knowledge sharing, and collaboration.
Student Testimonials
"What I like about UBIS is the small, very practical, and highly interactive classes taught by top-quality professors. The magnificent campus is located in the heart of Geneva, a city which possesses the most serene and tremendous social amenities. Moreover, I have already been able to work on five business projects during my studies which I could carry on after completing my Master's Degree."
Timothy Masebe
UBIS Graduate
"UBIS to me means quality education: the professors at UBIS are respected not only in the classroom but by business communities and international organizations throughout the world. That makes a big difference during your studies and after graduation when you have to apply the knowledge gained at UBIS to the real-world environment."
Liridon Byqmeti, from Kosovo
MBA Graduate


Locations
Geneva
Address
Avenue Blanc,46
1202
Geneva
,
Geneva
,
Switzerland
Keystone scholarship
Discover the options our scholarship can give you
Accreditations