Who we are
Founded in 1856, Plymouth College of Art is an art school run by artists and designers for artists and designers.
We are home to a dynamic, cross-disciplinary community of makers and thinkers for whom making is as important as reading and writing, and where the purpose of learning is inseparable from that of living your life. A place for making things, and making things happen. For making a difference.
What we believe: Live. Make. Keep creating
We believe that high-quality education for life in contemporary art practice is the creative catalyst for personal, professional and cultural transformation.
Social justice, through community impact and social mobility, and creative learning, through pedagogical innovation, are part of our DNA and at the heart of everything that we do.
We provide a platform, a crucible, space where people come together, explore new horizons, and push the boundaries of creative practice.
Together, we imagine, experiment, think, learn, make things, and make things happen. Whatever you want to make, wherever you want to go, the journey starts here and never stops.
Ten propositions
Making is as important as reading and writing, as science & maths.
Making comes before knowing.
Art is not 'about' life, it is about living.
The purpose of learning is inseparable from that of living your life.
In art education, the learner has no 'subject' to hide behind.
Purposeful learning creates an agency, not dependency, in the learner.
The space of learning offers, or withdraws, the possibility of learning.
Space cannot contain energy, energy creates space.
As a learner, as an artist, your identity will come from the horizon, not from the boundary line.
What's your proposition?
Spaces to make
Our working environment is widely regarded as one of the richest and most diverse ecosystems of materials, technologies, processes, practices, art forms and ideas that you will find in the form of an art college.
At a time when others are narrowing the range and ecology of their learning environments, we have invested heavily in both digital and analogue dimensions – because we believe that the space of learning offers, or withdraws, the possibility of learning.
Making a difference
We are committed to making a difference in everything that we do.
In response to the ongoing drive to marginalise the creative arts in mainstream education in the UK, we founded Plymouth School of Creative Arts and built The Red House in an inner-city area of significant social and economic deprivation. Together, we're building a progressive continuum of creative learning and practice extending from early years to Masters level postgraduate study, research and professional practice.
In 2016 Plymouth College of Art was ranked in the top fifteen Higher Education Institutions in the country for having the highest level of female membership of governing bodies.
"The entire object of true education is to make people...not merely learned, but to love knowledge – not merely just, but to hunger and thirst after justice."

– John Ruskin, The Crown of Wild Olive: Four Lectures on Industry and War (1882)
In 2016/17, Plymouth College of Art had the highest percentage from across the South East, the South West, and London, of full-time entrants aged under 21 years old, who are entering Higher Education for the first time from neighbourhoods with low participation in Higher Education.
In 2017 we were awarded the Social Enterprise Gold Mark for our systemic commitment to community engagement and to creating positive social change. And in 2018 we were ranked as 5th out of Higher Education Institutions in the UK for class equality and access to higher education.
In 2018, we created a fashion manufacturing business, Makers HQ, as a Community Interest Company (CIC) in partnership with the Millfields Trust, to drive community regeneration, increase retention of highly-skilled graduates and to reignite the fashion manufacturing sector within the South West.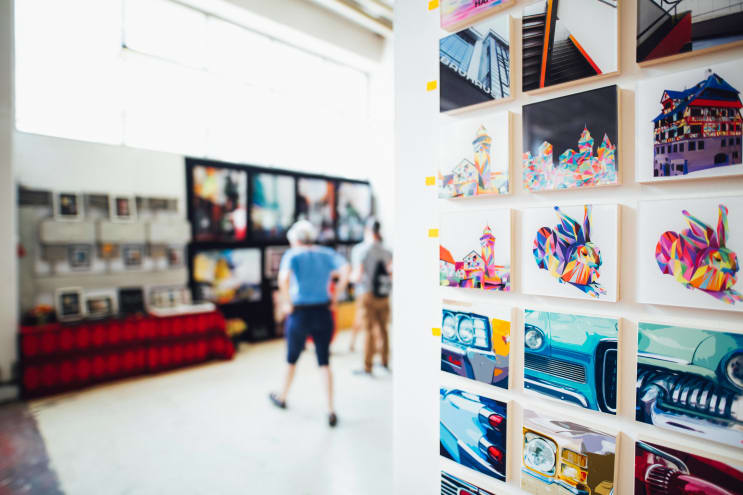 Plymouth: A city of creativity
Located on the coast of Devon in the South West of England, Plymouth is Britain's Ocean City. With a beautiful waterfront and harbour that includes a lovingly restored 1935 Art Deco lido, and plenty of stunning surrounding countryside, our thriving city offers a wealth of inspiration alongside vibrant culture and world-class events to over 35,000 students.
There's something special about the way that music, art and film blend in Plymouth. And we are actively involved in an intergenerational placemaking project that is transforming the city into the regional capital of visual arts – reflected in investment from Arts Council England.
Contemporary art venues like KARST house innovative contemporary art exhibitions and residencies, whilst the college houses our own well-established Gallery and Plymouth Arts Cinema, an independent arthouse cinema.
You'll find live music venues where you can catch local and touring bands, as well as DIY creative communities and community interest companies springing up all over the city. Devonport's £7.2 million Market Hall regeneration project, led by the Real Ideas Organisation, aims to create a digital centre for arts, community activity and enterprise, creating jobs and opportunities.
The city plays host to major exhibitions, including British Art Show 7 (with British Art Show 9 set to return to Plymouth in 2021), We The People Are The Work, Rebel Film Festival and The Atlantic Project, bringing internationally renowned artists including Ryoji Ikeda, Postcommodity collective, Ciara Phillips, and Matt Stokes to the city with specially commissioned, site-specific installations.
Alongside the city's much loved creative spaces, a host of newly developed centres for arts and enterprise have recently opened.
The Box is the new home for Plymouth's museum and city archives, with a £40 million rebuild set to open in 2020, with seven large-scale permanent galleries, including collections from the South West Film and Television Archive.
Meanwhile, Ocean Studios in Plymouth's historic Royal William Yard offers collaborative facilities, residencies and open-space workshops, and is already home to a wealth of creative, independent businesses – from screenprinting workshops to contemporary jewellers.
Plymouth's artistic spirit also shines in the Theatre Royal, the largest and best-attended regional producing theatre in the UK. Our relationship with the theatre provides opportunities for collaborations and industry experience – it is currently the venue for our graduation ceremony.
Plymouth Pavilions draws the biggest names in music and comedy, and the whole city gets involved with MTV Presents Ocean City Sounds, an annual music festival attracting the likes of Clean Bandit, Rudimental and Charli XCX – to name a few.
Beyond Plymouth
Just a stone's throw away is some of the South West's most beautiful coastline, moors and prehistoric woodlands, as well as exciting creative hubs where you can discover independent shops and cafes, exhibition spaces and more.
The nearby market town of Totnes is home to extraordinary vintage stores and eclectic record shops – the perfect destination for a day of browsing markets, galleries and shopping.
Award-winning photographer Nicholas White embraced Dartmoor during his studies at Plymouth College of Art.
Less than an hour away, the Eden Project is the world's largest indoor rainforest and plays host to the Eden Sessions each summer, where artists including Björk, Muse, Massive Attack and PJ Harvey have played intimate shows in this breathtaking setting.
A little further into Cornwall and you'll find the small town of St Ives. Nestled into a hillside and overlooking the Atlantic Ocean, St Ives is home to Tate St Ives, celebrating the artistic connections of the town which has been a destination for artists since Victorian times. Renowned names associated with the town range from Mark Rothko to Barbara Hepworth – a must-visit whilst you're studying at Plymouth College of Art.
We've always loved our city, but lately, there's an even greater buzz to the place than usual. Come and find out for yourself.
International Online Open Event: Living and Studying in the UK
16.09.20, 11:00am - 12:00pm
Before you decide where you would like to study and what course is right for you, it's helpful to attend an online event and speak to real staff and students about your options. If you are an International student wondering what it is like to live and study in the UK, why not come along to our next International Online Open Event: Living and Studying in the UK, taking place from 11.00-12.00 on Wednesday 16 September 2020.
Join Dr Mark Kerrigan, our director of Teaching, Learning and Enhancement, and PhD student Cynthia Hart, an international student researching the international study experience, as they discuss adapting to living and studying in Plymouth, Britain's Ocean City. Our International students are a valued part of our student body and benefit from a rich cultural, creative and academic experience when studying with us.
From Visa applications to financial support and language requirements - we're here to support your journey to creative study in the UK. Find out about life in Plymouth (one of the UK's safest cities), our local culture and heritage, accommodation options and the support in place to help you settle into your new surroundings.
We welcome drop-ins, but to make the most of the event and receive more information over email, we recommend booking your place in advance. To join the talk simply set up your computer, tablet or mobile phone and click through the link provided over email and in the schedule below.
Schedule
Live Presentation | 11.00-11.40
Join our admissions and student support team for an overview of studying at Plymouth College of Art, the international application process and the opportunities of studying within an active, cross-disciplinary community of thinkers and makers.
Q&A | 11.40-12.00
Following the live presentation, our team will be on hand to answer any specific international queries you might have around fees, visas and moving to and living in the UK.
Jan Starts
If you're considering a degree in art, design, craft or digital media and want to be part of a truly global community of creative learners, join us in January 2021 and kickstart your future in the creative industries.
BA (Hons) degrees
We are excited to announce that Plymouth College of Art is offering a range of BA (Hons) creative courses through our distance learning provision, starting in January 2021. Our vision for excellence in art and design distance learning, under the banner of our Connected Campus, affords students flexibility in their studies whilst being a valued part of our community.
These three-year courses all share a common distance-learning first year while specialising in a chosen subject, then progressing into our named BA (Hons) awards in years two and three on campus in the UK at Plymouth College of Art.
January Start Degrees allow you to begin your studies in the Spring term from wherever you are based - whether that be Asia, America, Europe or the UK. A January 2021 start will suit applicants who were unable to begin studying in September 2020 or wish to reduce accommodation or relocation costs by studying remotely.The distance learning element of these courses will finish in August 2021, allowing you to take a short summer break before continuing straight onto the second year of your chosen degree at our city-centre Plymouth Campus, towards the end of September 2021.
For more information please see here.
Locations
Plymouth
Address
Plymouth College of Art,
Tavistock Place
PL4 8AT
Plymouth
,
England
,
United Kingdom