About Saint Francis University
Saint Francis University is one of the oldest Catholic universities in the country, and the oldest celebrating Franciscan values. Our scenic campus sits on a mountain top in Loretto, Pennsylvania, near Pittsburgh. Faith, Generosity, respect, discovery, and joy are in our DNA, and we seek to attract students (like you) with a passion to shape the world.
Become that someone who ...
What follows ... is unique to you. This sentence will be written (and rewritten) along your life's journey. Each of us here at SFU wants to become that someone who helps you write the most impactful story that you can.
The SFU motto, become that someone, speaks to our drive to educate compassionate, caring, successful professionals; and your drive to become one.
Fuel your Mind
Success means discovering your talents and sharing them with others. Focused career preparation blended with a rich liberal arts tradition (where you explore many passions) can help you find your path.
Inspire your Spirit
All are welcome to walk with Francis. St. Francis of Assisi, through his Catholic-Franciscan mission, left us an abundance of clues for living a meaningful life that speaks to all faiths.
Beyond the Lecture
Global experiences, internships, and more help you to become the person you are meant to be. Plus, these experiences all go on your official Leadership, Involvement, and Service Transcript.
Small School- Passionate Fans
We are home to one of the smallest NCAA Division-I programs in the nation and recognized for academic excellence and sportsmanship!
Flash Facts, Rankings, and More
Saint Francis University in Loretto, PA is the oldest Catholic-Franciscan college in the United States. Our mission is to help students grow into compassionate, successful professionals through a culture of faith, generosity, respect, discovery, and joy. The University offers more than 50 programs (undergraduate, graduate, and adult degree) through three schools: Business; Health Sciences & Education; and Science, Technology, Engineering, Arts & Mathematics (STEAM).
Our Franciscan Identity
A Mind for Excellence, A Spirit for Peace and Justice, A Heart for Service
The seeds of what has become Saint Francis University and our Franciscan identity were planted by six Franciscan friars from Ireland who founded a boys' academy in the mountain hamlet of Loretto, Pennsylvania. These guiding principles of the Franciscans are the values we embrace at Saint Francis University to this day.
Catholic coeducational private liberal arts university; one of the first Catholic co-ed colleges in the nation
Sponsored by the Franciscans of the Third Order Regular under the presidential leadership of Fr. Malachi Van Tassell, Ph.D., T.O.R.
By the Numbers
Enrollment: 2,289 (1,726 undergraduate, 563 graduate)
Gender: Female 63.0%, male 37.0% (Undergraduate)
First-Year Retention Rate: 85%
Average Graduation Rate: 70.3%
Average Class Size: 17.6
Full-time Faculty: 131
Based on Fall 2017 enrollment.
Accreditation
Accreditation Council of Occupational Therapy Education
Accreditation Review Commission on Education for the Physician Assistant, Inc.
American Chemical Society, Certified Chemistry Degree
Commission on Accreditation of Allied Health Education Programs
Commission of Accreditation in Physical Therapy Education
Commission on Collegiate Nursing Education
Council on Social Work Education
Engineering Accreditation Commission of ABET, Environmental Engineering
International Assembly for Collegiate Business Education
Middle States Commission on Higher Education
Pennsylvania State Board of Nursing
Pennsylvania State Department of Education for approved programs in Teacher Education
Governing Structure
The University is sponsored by the Franciscans of the Third Order Regular and governed by a Board of Trustees comprised of both laypeople and Franciscans. The University's President receives input from faculty, administrators, and students who participate in advancing the University's mission.
Athletics
SFU is a member of the National Collegiate Athletic Association, and the University's 23 men's and women's sports teams compete at the Division I level. The University is also a member of the Northeast Conference. The University's nickname is the Red Flash.
Facilities
On the academic front, our facilities include academic buildings centered around both lecture and project/lab-based learning and a library and learning commons, and various student support offices. Campus life facilities include on-campus residence halls and an off-campus transitional housing, a student union, athletics facilities, multiple dining areas, and student health services. The 600-acre campus is also home to the Southern Alleghenies Museum of Art, Lake Saint Francis, and Immergrün Golf Course. The nearby Mount Assisi Gardens, further enhance the setting. the nearby Mount Assisi Gardens.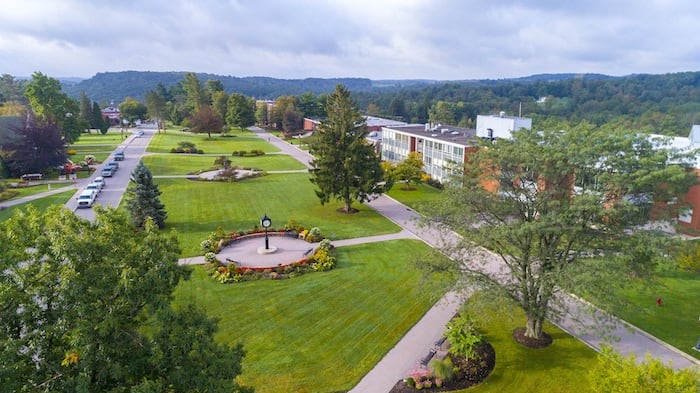 Mission and Values
In an age of complexity, the simplicity of the message of St. Francis of Assisi has more appeal than ever before: Humility. Generosity. Reverence. Service. Respect. Prayer. Joy. Love. These guiding principles of the Franciscans are the values we embrace at Saint Francis University.
Mission Statement
A Mind for Excellence
Saint Francis University offers higher education in an environment guided by Catholic values and teachings and inspired by the example of our patron, Saint Francis of Assisi. The oldest Franciscan institution of higher learning in the United States, Saint Francis University is an inclusive learning community that welcomes all people.
A Spirit for Peace and Justice
University programs and activities foster such Franciscan values as a humble and generous attitude toward learning, respect for diversity and the uniqueness of individual persons, understanding of ethical issues, and reverence for all life. With a spirit of simplicity and joy, we provide opportunities for the University community to think critically and analytically, communicate effectively, and integrate theory and practice.
A Heart for Service
Saint Francis University offers undergraduate programs in the liberal arts tradition, graduate and professional programs of study that emphasize personal and professional ethics, and continuing education opportunities for personal and career enhancement. We seek to inspire in all members of the University community love of lifelong learning and a commitment to share their gifts and skills generously with others in a rapidly changing world.
Goals of Franciscan Higher Education
A Humble and Generous Attitude toward Learning
Reverence for All Life and for the Goodness of All Humanity
Respect for the Uniqueness of Individual Persons
A Global Vision
Service to the Poor and the Needy
A Community of Faith and Prayer,
A Spirit of Simplicity and Joy
Franciscan Presence.
In an age of complexity, the simplicity of the message of St. Francis of Assisi has more appeal than ever before. These guiding principles of the Franciscans aren't just ideals to be admired, but values to be lived.
Vision
Saint Francis University is the Catholic university of choice for high-ability students who seek an authentic, academically rigorous, interactive learning experience where they can grow intellectually, spiritually, morally, and socially. Students seek out Saint Francis for its ability to combine the values and vision of a liberal arts education with learning goals that are relevant to the economic needs of society.
Saint Francis University is recognized as a vital strategic partner – regionally, nationally, and internationally – establishing strong relationships by seeking collaborators to nurture and expand the University's mission, vision, and strategic goals while contributing to a global vision of societal good brought about by the exercise of effective servant-leadership principles.
Saint Francis University's facilities are designed to enhance and raise to the highest level of capability its nationally-recognized leadership programs in business, health care, science, and the humanities.
Saint Francis University engages in continuous improvements in organizational effectiveness and efficiency at all levels – driven by internal and external assessments – to promote exceptional stewardship of its human and financial resources.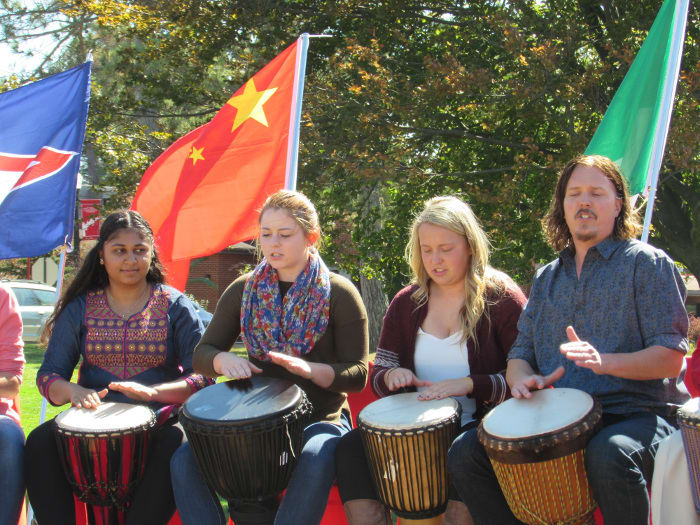 Locations
Loretto
Address
117 Evergreen Drive
PA 15940
Loretto
,
Pennsylvania
,
USA