Read more on the institution's website
Stony Brook University, widely regarded as a SUNY flagship, is home to an exceptionally diverse student body of nearly 27,000 high-achieving students — including more than 17,000 undergraduates — from nearly all 50 states and more than 100 countries. Our energetic campus is ranked among the top 40 public universities by U.S. News & World Report.
We offer more than 200 academic programs, have an award-winning undergraduate research program, and are situated in a great location – only 60 miles east of New York City.
Wondering what makes a Stony Brook education unique? Here, you'll learn by doing. Each year, thousands of our students do research or independent projects alongside a faculty member, study abroad, volunteer in the community, intern in nearby New York City, or participate in another form of experiential learning. You'll apply the skills you learn in the classroom to real life, helping to prepare for your future and create a better world.
Our Faculty
Nobel laureates, Guggenheim fellows and MacArthur grant winners teach on our campus. Our faculty are leaders in significant national and worldwide projects, such as uncovering the causes of lobster mortality in Long Island Sound, searching for the origins of man in Kenya's Turkana Basin and managing the national parks of Madagascar. We've made significant contributions to NASA initiatives, such as examining Martian minerals for evidence of life and other phenomena.
Stony Brook University is part of the management team of nearby Brookhaven National Laboratory (BNL), joining such prestigious schools as Princeton, Stanford and the University of Chicago on the list of major institutions that have a role in running federal research laboratories. In addition, BNL and Stony Brook collaborate with Cold Spring Harbor Laboratory — one of the world's pre-eminent private research institutes.
Going Beyond the Expected
Stony Brook is one of America's most dynamic public universities. We are a center of academic excellence and an internationally recognized research institution that offers all students a world-class education.
Facts & Rankings
Top 1% of universities in the world - QS World University Rankings, 2018
Top 15 best value public college - Forbes magazine, 2019
18:1 student-faculty ratio - Stony Brook University
Top 40 public university - U.S. News & World Report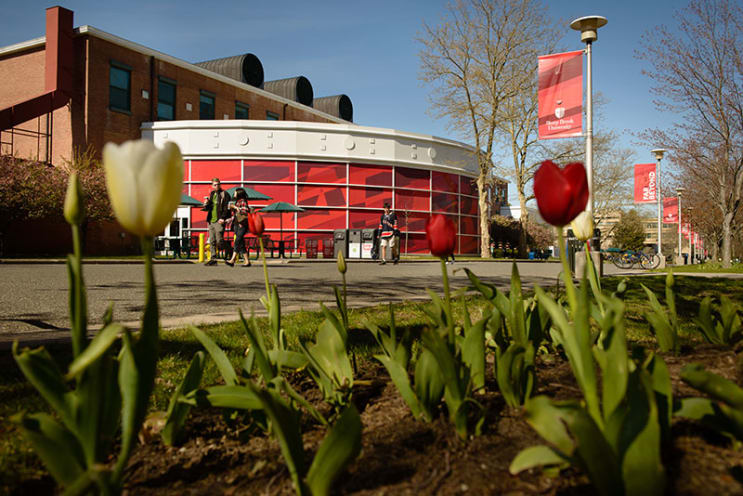 Sixty Years and Beyond
Stony Brook University offers more than 200 undergraduate programs, more than 100 master's programs, and more than 50 doctoral programs.
History
1957: Founded
2001: Became member of Association of American Universities
Location
60 miles: East of New York City
3 miles: From West Meadow Beach on the Eastern Seaboard
1,039 acres: On the North Shore of Long Island
Majors & Minors
Most popular undergraduate majors:

Biology, Psychology, Business Management, Health Science, Computer Science,
Applied Mathematics and Statistics,
Economics, Biochemistry, Mathematics and Mechanical Engineering

60+ Majors
80+ Minors
Faculty
98% of tenured/tenure track faculty hold doctoral or highest degrees in their fields
2,330+ Inventions
700+ U.S. patents
10% of 300 Intel Science Talent Search competition finalists/semifinalists mentored by our faculty each year, making Stony Brook a major incubator of Intel talent in the country
Campus Residences
30 Residence halls
23 Apartment-style buildings
10,336 Students live on campus (9,233 undergraduate • 1,103 graduate)
83% Of freshmen live on campus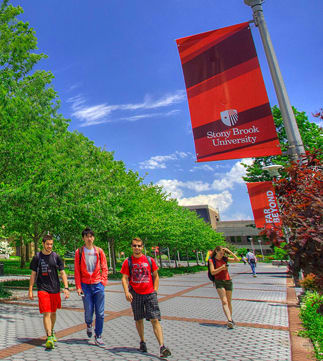 Locations
Stony Brook
Address
100 Nicolls Road
NY 11790
Stony Brook
,
New York
,
USA