Read more on the institution's website

© University of Redlands
The real Redlands experience starts with you.
There are countless reasons to choose the University of Redlands, but only one actually matters: yours.
The University of Redlands is a dynamic private liberal arts and sciences university located in the Inland Empire of Southern California, close to Los Angeles. Redlands' 2,450 students from 45 countries study in 40 bachelor's programs, many of which are nationally and internationally recognized. The University of Redlands is ranked #16 among universities in the Western United States by U.S. News and World Report. Students enjoy a residential campus (70% of students live on-campus) with over 120 student organizations and a study abroad participation rate of 60 percent. Small classes and a beautiful setting close to the beaches of the Pacific, Orange County Amusement Parks, and within one hour of five major airports are other attributes of the Redlands experience. 100% of admitted international students receive a merit-scholarship (up to $31,000 USD per year), and limited need-based scholarships are available as well.
At Redlands, you will live and learn in a true community of dedicated professors and engaged students. We blend a timeless education in the arts and sciences with hands-on experiential learning to produce the most effective education for today's world and the future. It's why our students are accepted to top graduate schools and launch satisfying careers upon graduation. Our distinguished professors have interdisciplinary backgrounds, scholarly accomplishments, research experience, and real-world expertise in multiple programs. But most of all, they care about teaching and advising students.
History and Traditions
In 1926, university students and alumni rallied to save one of our most beloved symbols of pride—the R constructed by students high on a hillside of the nearby San Bernardino Mountains.
The R watched proudly over our valley and our university below until the U.S. Forest Service threatened to remove it because of an advertising ban.
We urged officials to reconsider. It was a sign of loyalty, pride, and history, we said. Our motives, we argued, "are among the highest that can adorn the human heart."
The R was saved.
Even in our infancy, the university was a place that valued history, and that has never changed in our 100-plus years.
From our legacy of community service to the revered Och Tamale chant, we celebrate a wide range of time-honored traditions with a commitment that grows deeper with every generation.
We soar on the strength of our shared histories.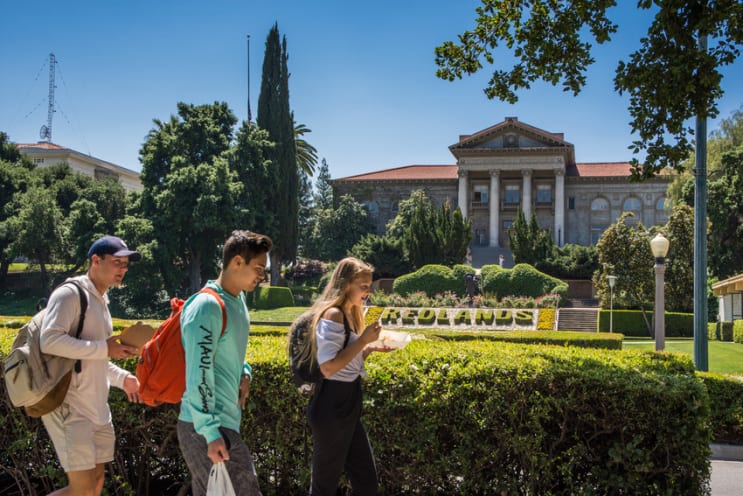 © University of Redlands
Mission Statement
The University of Redlands is a private, independent liberal arts university committed to providing a personalized education that frees students to make enlightened choices.
Redlands emphasizes academic rigor, curricular diversity, and innovative teaching. Redlands fosters a community of scholars and encourages a pluralistic notion of values by challenging assumptions and stereotypes in both classes and activities. A Redlands education goes beyond training to embrace a reflective understanding of our world; it proceeds from information to insight, from knowledge to meaning.
Welcoming intellectually curious students of diverse religious, ethnic, national, and socioeconomic backgrounds, the University seeks to develop responsible citizenship as part of a complete education. Redlands encourages a community atmosphere with an exceptional opportunity for student leadership and interaction. For working adults, the University offers innovative academic programs at convenient locations and times.
Redlands blends liberal arts and professional programs, applied and theoretical study, traditional majors, and self-designed contracts for graduation. Small classes enable each student to participate in class discussions, to work closely with professors, and to receive extensive individual attention. Redlands remains sensitive to contemporary trends in society and challenges students to commit themselves to a lifetime of learning.
Locations
Redlands
Address
University of Redlands
1200 East Colton Ave P.O. Box 3080
Redlands, CA 92373 United States
P.O. Box 3080
Redlands
,
California
,
USA